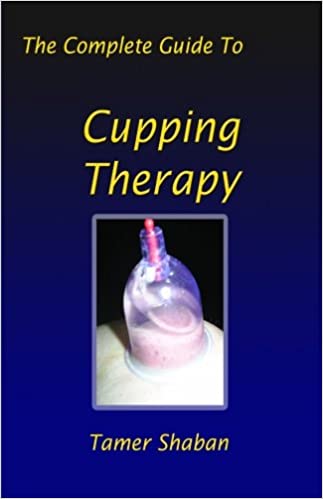 This is a guest-post in the form of a written interview with Dr. Tamer Shaban – a physician and author based in Egypt.
– Please give us a short introduction about yourself, and in particular how you ended up getting involved with hijama ?
My name is Dr Tamer Shaban. I am a physician. I got my Bachelor of Medicine and Surgery Degree before I got to know about cupping therapy. My father suffered from low back pain and Sciatica. He tried a conventional medicine without any success. A practitioner of cupping therapy did the procedure for him, and his symptoms disappeared. He was in need of doing cupping therapy every month for three months and then whenever the pain would appear. I learned cupping therapy from a university professor, and got a certificate in Cupping therapy and another certificate in acupuncture to treat my father. Then I studied many other complementary medicine therapies such as herbal medicine, hypnotherapy and nutrition.
– What particular illnesses/ conditions (if any), do you specialise / had the most experience in?
All types of pain conditions, asthma and infertility
– And do you find that in your experience, the conditions/illnesses that you have come across respond well to cupping (hijama) therapy? And if so, what are they?

Yes, the success of cupping therapy in pain conditions is about 90%, and in infertility about 60%. I do not recommend to do cupping therapy for diseases without any evidence of its effectiveness for that disease.
– Also what would you say about using cupping as a general preventative therapy (which by getting rid of bad blood/ toxins in the body may help prevent conditions like high cholesterol/ heart disease / cancer in the long term)? And how often would you recommend this (once a month? once/twice a year?)
Cupping can be done as a preventive therapy (as a type of sunnah) but until now there is no study conducted to show if the cupping therapy prevents the body from any disease. There is no bad blood in our body, it is a collection of old red blood cells and inflammatory cells which produce pain. It can be done once per year.
– How often do you get hijama done yourself, and what for (if any specific condition) and who do you go to to get it done (since it is not an easy therapy to self-administer)?
A physiotherapist professor did hijama for me to treat migraine, and it was very effective
– What is the overall prevalence of hijama therapy in Egypt? Is it available in hospitals and clinics as a valid alternative / sunnah therapy?
Hijama is a well known therapy, there are good practitioners especially physiotherapists. Cupping therapy is still under research, it is not available in hospitals. Egyptian universities made a great contribution in the field of cupping therapy with many positive results. Many researches were conducted and submitted for master and MD degrees in the field of cupping therapy in Egyptian universities.
– How long did you research this therapy before writing your book: "The Complete Guide to Cupping Therapy"
About five years.
– Finally, where can people buy your book/s
You can find them here:
http://www.lulu.com/spotlight/doctor2000
FEATURED THERAPIST:
Dr Tamer Shaban
LOCATION
Egypt
CONTACT DETAILS:
Email: tamer.shaban@gmail.com
_________________________________________________
Our thanks to Dr Tamer Shaban from Egypt for sharing the above post. If you have any questions for Dr Shaban or indeed have been treated by him and want to leave him a testimonial(!), then please do so via a comment* below.
If you are a hijama therapist or patient and are happy to share your knowledge or experience via a guest blog-post like the one above, please contact us.